Some plants must be supported to be at maximum production. These plants are tomatoes, peppers, eggplant, cucumbers, long beans, pole beans, bitter melon, Malabar spinach.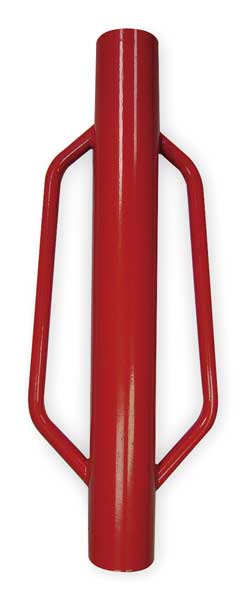 Tools: The garden's two handled fence post driver is in the small shed. (See photo.)
Trellises are for cucumbers, long beans, pole beans, bitter melon, Malabar spinach.
Trellises can be made out of bamboo, a wooden stake structure, fence pole structure or any other method you might devise.
However, the easy way to do it is to purchase 8' steel T-stakes.  These can be purchased at Home Depot or Lowe's in the fencing department.  Pound to stakes into the ground 18" deep and 6.5' apart down the length of a bed and 1' from the edge of one side of the bed.   The garden has a special fence post driver in the small shed.
Then purchase concrete rebar mesh from Home Depot. This is a 3.5' x 7' flat metal mesh with 6" square holes. Wire the remesh to the metal poles. Stack one remesh on top of the lower one to make a 7' high trellis that is 7' long.
Plastic zip ties, old electric wire(in small shed), or other wire is good for fastening.
Tomato cages
Purchase two concrete remesh sheets.
Bend each around to make a cylinder cage.
Stack one cage on top of the other and wire together.
Place the cage around the tomato plant, and hammer a T-stake into the ground next to the cage and tie the cage to it for stability.
Firmly anchoring cages is important due to winds and weight of mature plant.
Eggplant cages
The same as tomato cages, but with only one layer of remesh needed, for the plants don't get as tall as tomato plants.
Pepper cages
Purchase the large size funnel-like tomato cages sold in nurseries and home improvement stores. Do not purchase the smaller size cage.
These cages are good for pepper plants which do not get tall.
Anchor these cages too with a stake of some sort.