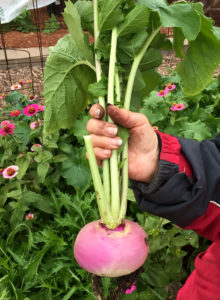 Lookie, Lookie!  Check out the fall and winter bounty at Westbury Community Garden.
Kat Elder harvested turnips, onions, Mizuna mustard, Cressida cress, bok choy, lettuces, Tuscan and Red Russian kales, Bright Lights chard, cilantro, eggplant, radishes, snap peas, black beans, thyme and  dill with beautiful Zinnias and Rudbeckia for the table.
There are a few garden plots available now. Check the Join page for more details. You, too, can grow your own organic veggies!