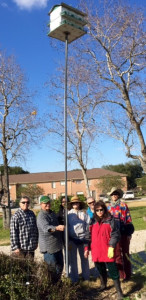 On a nippy, very windy Saturday, February 7, 2016, a dedicated group of Purple Martin landlords readied the four houses for spring arrival.
Six gardeners (Bob Cook, Wayne Slaikeu, Dawn Asher, Ross Asher, Kat Elder and Becky Stemper) were joined by two Volunteer Houston volunteers, Patricia and Emily Tucker. Together we dropped the houses, cleaned them, prepped them and re-erected them.

This year we are attempting to block re-entry by the aggressive, cunning House Sparrows and Starling invaders until the Purple Martin scouts, who nested with us last year, return from South America. When they begin arriving to stake out housing for their families who will follow, our volunteer team will remove the plastic bag blocking the entrances.
If anyone wants to join us for the final preparation, please email me If anyone wants to join us for the final preparation, please email me at info@westburycommunitygarden.org .We'd love your help as we're all their landlords and get to be serenaded as we garden throughout the summer.  Thanks, Kat