Date/Time
Date(s) - 06/03/2017
9:00 am - 11:30 am
Location
Westbury Community Garden
Categories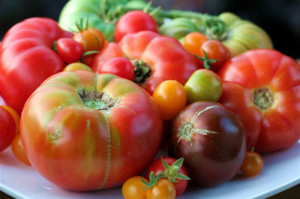 It's Tomato Tasting time again!
This mini-fund-raiser for Westbury Community Garden is a lot of fun for the whole family. If you love home grown tomatoes, you shouldn't miss it!
Tomato Tasters
For a $5 donation, each participant gets a tasting card to score each blinded tomato sample on taste, sweetness, tartness, color, texture, and more. (No names are revealed till the end!) We usually have 25 – 30 varieties divided into slicers, salad tomatoes and cherries. There will be a mixture of hybrids and heirlooms and we'll have all kinds of colors and shapes. There will be water and plain crackers to cleanse the palate between tastings.  At the end we'll vote on the best slicer, salad tomato and cherry. It's a great way to see what you might like to plant next year.
Tomato Growers
Gardeners, if you think you'll have about two pounds of any variety, we are seeking donations of tomatoes. You must be 100% sure of the variety name. For your donation, you'll receive a free tasting card and can experience the wide range of flavors we'll have to sample. Bring at least 2 lbs of large tomatoes or 50 cherry tomatoes. Wash the fruit but don't refrigerate. Bring it in a labeled bag at 8 AM on the day of the event.
Volunteers
We need at least 6 volunteers on the morning of the event for tomato prep and table setup beginning promptly at 8 AM. This is a fun way to earn some volunteer hours. We'll also need volunteers to help with updating the scorecards with this year's data and putting together the tomato descriptions. This info becomes available during the last week as our growers begin to know what tomatoes will be ripe on the day of the event. We need someone to shop for a few items and someone to solicit businesses for door prizes (if they are tomato related, so much the better). Can you help? Contact Debbie Gordon, event chairperson at debbie @ digiroo [dot] com.
Bookings
Bookings are closed for this event.