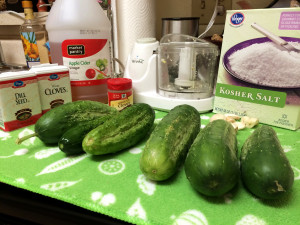 A fun way to enjoy and share your cucumber abundance is to make homemade pickles! Here is a simple recipe I've pulled together after reviewing pickling methods and recipes online. I choose to make all my recipes sugar and preservative free.
Note, these pickles must be stored in the refrigerator because they are not put in a water bath. If you wish to store your pickles longer than 2 weeks or so, you should look into hot recipes that can be put into hot jars and properly sealed. My pickles last about 2 weeks in the fridge.
Patty's Pickle Recipe
3-4 pickling cucumbers (approximately 4-6in long)
3-4 cups apple cider vinegar
Fresh garlic cloves
Fresh dill
Whole and ground cloves
Pickling or kosher salt
Large casserole dish for brining
Jars
The amount of ingredients can be adjusted to your liking and to the number of pickles that you have. I also find this recipe works fine even if I am missing a few ingredients. I rarely measure anything. I choose to slice my pickles using a mandolin slicer on the thick setting. Using thinner pickles or slicing them lengthwise like dill pickles results in loosing their crunch to some degree. I also find the pickles work best when I slice them fresh from the garden without refrigerating them first, but either way works.
Step 1: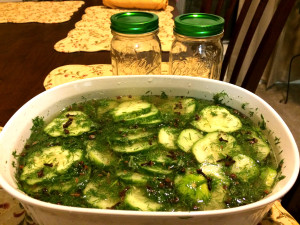 Wash and slice pickles and other ingredients. Cut the garlic into small pieces. Place everything in the brining dish. I sprinkle enough whole cloves, ground cloves, dill, and salt to coat the top of the pickles and use enough vinegar to cover the top of all the pickles by about 1/4 inch. It is up to you to find the taste you like. I choose not to add any water to these because I find the recipe gets too weak after brining with water.  I have also tried adding cinnamon. You can easily add sugar, onion, peppers, and so forth.  There are many other vinegars and options to try and tweak as you like. Cover with tin foil and leave to brine in the fridge for 2 hours.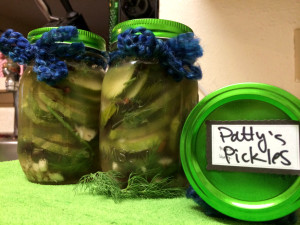 Step 2:
Sanitize your jars by washing them with hot soap and water. I do not further sanitize my jars for this recipe since these pickles are not for long term storage. Scoop the pickles and brine into your  jars and seal by hand. Attach labels to the jars with a date and ingredient list.
Step 3:
Eat all the pickles and share with your friends!